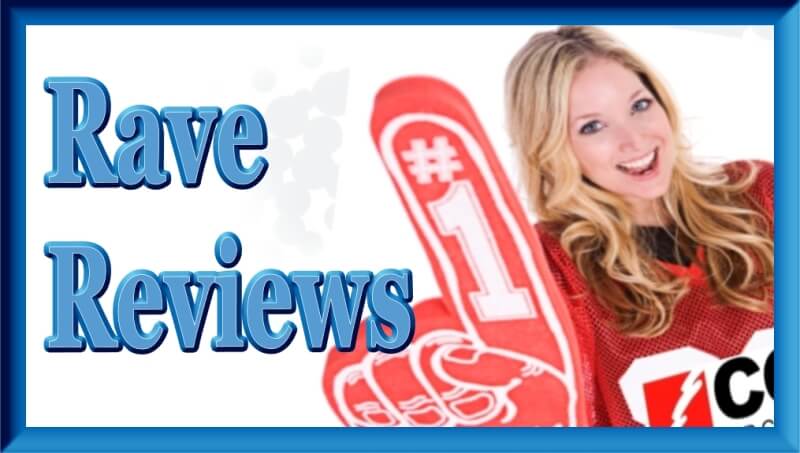 It is our goal that by sharing the comments and reviews below, you will come to know Colony Air Conditioning and Heating as a company you can trust. One that offers honest, professional and qualified service to each and every customer from the first point of contact to the final point of service and beyond.
If you were happy with the services we provided, we would love to hear from you. If a concern arises... we really want to hear from you so that we can do whatever it takes to make you a Happy Satisfied Customer. We are not perfect, but we do pursue perfection.
What Our Customers Say . . .
---
I just wanted to let you know how happy I am with the heat pump you installed at my home about 2 years ago. Not only did it lower my electric bill by two thirds, yes, two thirds, but it has functioned without a problem the whole time.
I have always purchased your twice yearly checkup plan and am very happy with that too. Your man, Miguel, is a very professional and nice gentleman. I've been thinking about adopting him. He always explains everything I ask him about the unit and on his latest visit replaced a part that was a wise choice to replace at this time. I can't brag on him enough. I'm an old lady (68) and am at the mercy of many repairmen and I never have to worry about Colony A/C and Heating. I trust your company and Miguel completely. Thank you so much for taking good care of me and my ac and heating needs.
Sincerely,
Kathrine Davidson
Lewisville TX
---
"The technician was very professional and very informative. He showed me what he found and gave me factual info. He found that the upstairs unit had no freon, even though it was just serviced 4 days ago by another company."
Gary S.
"As always, Colony A/C came through!!!"
Molly I.
"Always a great job!"
Jim D.
"Good service!"
Larry M.
"They did a great job and were earlier than expected."
Michael W.
"Our service professional was very nice and professional. We are very pleased."
--Gregory S.
"Technician took time to explain exactly what was wrong with my furnace and made sure I understood."
Cheryl R.
"Personable, not pushy, reasonable prices."
Eric M.
"Was polite, used his shoe booties and was also very careful with the pulldown [stairway]. Efficient and quick. You're wonderful!"
Doreen K.
"Very pleased with crew who are always professional in every way."
Paul M.
"Technician and his helper who did my install were very neat and professional. I personally liked the shoe coveralls. You all did a great job! Thank you for cleaning up!"
Debbie V.
"Tech did a great job--friendly, thorough and timely. Everything was perfect... customer since 2008."
Jeff T.
"Excellent service, very courteous, wore his booties."
Sue E.
"I am a happy camper. Don't change anything--it's all good."
Carol C.
"Quick response and excellent installers."
Stella T.
"10--can't rate higher--awesome job, quality, timeliness, professionalism. Keep doing what you are doing."
James P.
"Nicely done. Thanks for being straight forward."
Nathan D.
"Nice to get a quote and it is the final price. So many places keep adding to your bill."
Connie M.
"Technician is very competent and worked into the evening to provide heat to our house."
Charles T.
"Personnel are always polite and professional! I wouldn't call anyone else! Thanks for the coupon!"
Susan L.
"The staff did an excellent job... I have lots of confidence in your organization."
Ken H.
"Couldn't ask for a better sales and installation process. Pleasure doing business with you!!"
Hazel K.
"Explained and showed the parts replaced--very knowledgeable and personal. Excellent service."
Darrell S.
"Exceptional performance! Friendly, knowledgeable, and fixed the problem fast and efficiently. Thank you."
Matt M.
"Thanks for coming out the same day-in the middle of summer."
Gary T.
"Thanks for the Sunday service. We really appreciate it!!"
Laura L.
"Best ac company I've ever worked with! Your tech is top notch!"
M. Y.
"Always super friendly service :)"
Anonymous
"The office always has a great attitude-helpful, accommodating, responsive. Hard to find good customer service over the phone! The tech was prompt, fast, accommodating and HONEST!"
J. Mc.
"One great tech. You're very lucky to have this tech on your team!!"
L. M.
"Thanks for coming out at short notice on a Saturday!. Thanks for the coupons!"
D.B.
"Fixed a/c in timely and cost efficient manner. Very personable-easy to deal with. Keep up the high quality of service."
Ken H.
"The techs were very polite. They worked quickly and were neat. They explained what they did and how to adjust and monitor the dampers installed if necessary. The techs quick response assured safety on the job."
S. B.
"Technician was late due to problem with the call before mine, but I was kept advised."
S. J.
"Technician was very thorough and informative. Excellent service by all employees that I had contact with."
Connie P.
"I felt the technician was sincere in his job performance. I was pleased."
A. C.
"You have a loyal customer."
Lawrence A.
"As a loyal member, I really appreciate the coupon you mailed to me."
X. Z.
"So glad we called you for a 2nd opinion...appreciated the honest, accurate service. The tech was awesome!! Keep doing what you are doing--honesty is HUGE in the a/c industry. Great service too!"
Jeff S.
"The tech is a true professional. Because of his honesty and knowledge, I will contact Colony A/C in the future."
R. B.
"Always a pleasure to deal with. We recommend you at every opportunity."
Chris T.
"We appreciate your patience as we made a decision about our purchase...no pressure."
Paul H.
"Excellent service even at 11:30 at night--couldn't have been better."
Jeremy D.
"First check I willingly wrote! Excellent, happy, overjoyed."
Mary H.

"[Tech] took the time to answer my technical question. Very thorough answers!"
Lynn A.

"I am very impressed with your company. If you keep up with what you're doing right now, I will be your customer for life."
Ann T.

"Everyone very helpful, from the office to the installers."
Janice T.

"We have been very pleased with all our service from Colony A/C"
Ann W.

"Very responsive even though problem was my fault."
Sherry H.

"From call to completion --awesome!"
Err E.

"I was very pleased to be offered the option to go with the service plan for just a small amount more. Thanks!"
Matt P.

"All was great as always!"
Ann F.

"Always happy with Colony Air"
April S.

"Techs stayed and performed service at my request even though weather was less than ideal."
Aaron K.

"You were so helpful on the phone and so thorough with the tune up--you have restored my faith in honest caring service!!"
Linda L.

"You came and told me the truth and service was great. Thanks."
Laine D.

"Always a pleasure to have your guys here."
Bob R.

"Thank God! You were able to come same day."
Sandra M.
"Very courteous and knowledgeable in his area. Explained everything that needed to be repaired. Awesome service, very happy with service call."
Janet C.

"Very courteous and patient to explain the problems and give recommendations."
Robert B.

"As usual... superior service, courteous personnel!"
Amy P.

"Dogs enjoyed the treats."
Scott M.

"Received fast response to my call."
RoseMarie D.

"Technicians are very nice, very helpful and gave explanations."
Jill D.

"Absolutely outstanding service and timeliness."
Brian A.

"[Tech] came out on an after hours call and he was excellent in every way. Very polite and thorough."
Raymond T.

"Everything about the experience was super. You can't get any better than perfect."
Eileen C.

"These guys are efficient and polite! [Techs] are the best!"
Jim M.

"[Techs] were excellent. We appreciate your excellent service."
Mark A.

"Best service techs we have had. Very considerate, patient, and helpful."
Ernie E.
---
"Excellent representation of Colony Air by your serviceman. We appreciate the professionalism of your company."
Jody V., The Colony TX
"(You) must follow the Sewell philosophy on customer service."
Dennis & Sharon Lindquist, Plano TX
"On time, flexible, no up-sell, professional. All around great!"
Brent Brownfield, The Colony TX
"I have never had a more courteous technician and the lady that answers the phone was so nice."
Mary Snell, Frisco TX
"Courteous, professional and thorough as always! Thanks so much for your service!"
Caroline Keyser, Frisco TX
"We are very happy with the service we've received from Colony AC. Your service tech was very professional and thorough. Your office personnel could not be more helpful. It's always a pleasure to speak to them."
Kathy Casazza, Coppell TX
"The technician was great – took the time to explain what was going on – very professional."
Clark Smilie, Plano TX
"We are very impressed with your personnel – their professionalism and ability to explain the equipment to clients. Keep it up!"
Jeevan & Linda Nair, Frisco TX
"We have always enjoyed great service from your company for the past 10 years. Thanks!"
Pam Bockbrader, Little Elm TX
"You knocked one 'out of the ballpark' with your service from phones to home! Keep it up."
Kevin B., The Colony TX
"Technician and receptionist were very helpful. I have trusted your service for over 10 years."
Dave B., Highland Village TX
"In the early 1980's, Larry, the owner of this Carrier dealership (Colony AC), did something for us that we will always remember. In late July (when it's very hot in Texas), our old air conditioner that was installed when the house was built, stopped working. Because Larry didn't have the right size unit in stock, he ordered the correct unit and installed a smaller temporary central unit until the right one came in. We were very impressed with this, as I am sure anyone else would have been. Just goes to show – when you do something out of the ordinary for someone, they never forget."
Leonard H., The Colony TX
"We've been very satisfied with Colony AC for a number of years; in Texas, 'If it ain't broke, don't fix it!' All of the techs are first rate; the telephone receptionist is simply the most efficient and pleasant lady one could hope to encounter."
Harold E., Dallas TX
"As always, your service and personnel are 2nd to none."
C.R., The Colony TX
"He was very polite and knowledgeable. Also he put 'socks' over his shoes to protect the carpet."
Marla S., Lewisville TX

"(Tech) was the most courteous and well-trained tech I've ever seen."
Bruce Greenblatt, Dallas TX
"The experience of having the ac repaired was beyond expectations – courteous, knowledgeable and honest."
Rick Penshorn, The Colony TX
"Keep doing what you do best – good service. Ya'll are on top of it!"
Don W., Highland Village TX

"10"
Art S., Carrollton TX
"10+ -- heck of a job! You made me feel like I was your only customer. I will use you again and again."
Greg J., Frisco TX
"Tech responded promptly and did a great job. I will use Colony AC from now on!"
Don Watts, Frisco TX
"Very competent and completed quickly. I called early a.m. and technician was here at 1 p.m.!"
Deanna Woods, The Colony TX
"We have always been pleased with your service and promptness. Keep up the good work.
Jerry F., Carrollton TX
"Wonderful people, great company!"
Ruth Pinchot, The Colony TX
"Very pleased with service and tech's work. I'd never had that kind of service before. He gave good service, explained what he was doing as he worked and cleaned up afterwards."
Honey Hudson, The Colony TX
"Excellent – I appreciate the promptness."
L. C., Farmers Branch TX
"You are on my realtor resource list."
Maude Gleason, Frisco TX
"We are loyal customers because you provide outstanding service. [Tech] did us true as always. The office staff is cheerful, courteous, efficient and helpful."
Judy H., Dallas TX
"The tech was very professional and did a great job."
Mrs. LeFlore, Oak Point TX
"Here when promised and completed work in a professional manner."
Don W., Carrollton TX
"Both times the guys were just great, that is why I called you again!"
Susan F., Frisco TX
"I was amazed how quickly and professionally the problem was taken care of! This service was "purdy"grand!"
Sandra N., The Colony TX
"Excellent service yet again. Thanks!"
Roger M., The Colony TX
"We're always very satisfied with the level of service from the receptionist to the technician."
Alfred G., McKinney TX
"Appreciate the phone call to tell the approximate arrival time."
J. C., The Colony TX
"I'm always impressed by how friendly and accommodating everyone is. Thank you! Keep doing as you are now!"
Anonymous
"I appreciate the manner in which the service repair was handled from the initial call to the completion."
Taylor H., Frisco TX
"10! Keep up the awesome service!"
Susan M., Plano TX
"You get a big 10 for your service and your excellent technician!"
Anna R., The Colony TX
"Office was friendly. Gave 15 minute notice. Technician was GREAT! Explained very well! Courteous and pleasant. You all could not be any better!"
Linda L. Frisco TX
"Larry and the entire staff continue to be prompt, courteous and reliable. Thanks! Keep up the good work."

Julio B., The Colony TX
"Answering my questions in words that I was able to understand. Made sure everything was done correctly when here so you wouldn't have to come back."
James D., The Colony TX
"Excellent product and excellent product installation."
Julian L., The Colony TX
"Thanks for all of your help. You went above and beyond in your service. I appreciate your honesty and dependability."
Jackie F., McKinney TX
"Came out quickly, on time with a 10 minute notice. The tech was great! He explained everything patiently. Thank you."
Linda L., Frisco TX
"Outstanding tech and phone service. Excellent service and will recommend you totally. Keep up the excellent work!"
Mike D., Frisco TX
"Your service has always been excellent and reasonably priced. I am very satisfied with all work done. Keep up the good work. You have always been prompt, honest and dependable."
Dennis B., The Colony TX
"Fantastic personnel as always! I really enjoy your company! I'll give you a call!"
Karen S., The Colony TX
"You are top notch! I like the phone call before the service man comes."
Ginger W., The Colony TX
"10. I love your company. Honest and quick answers."
Jenny S., The Colony TX
"Came in a very timely manner, well prepared and very informative. Great job! I would recommend you to anyone. Thank you."
Tara H., Little Elm TX
"This is how I'd run my business. Very good from the start to the finish."
Mike T., The Colony TX
"Knowledgeable, competent and professional. System works great."
Carl H., Dallas TX

"[Technician] did a great job. We had a few quotes and we went with him because he was honest and drew a picture to explain things more easily. Thanks for doing a great job."
Stacy B., Lewisville TX
"Very professional, yet down to earth to work with on schedule. Technicians were very professional, clean, punctual and knowledgeable. A nice company to do business with."
Glen W., The Colony TX
"The tech was awesome! Very helpful and courteous. I am a realtor and will be referring your company to my clients."
Susan F., Frisco TX
"I rarely give a perfect score, but you guys have customer service down to a "T"!! Just keep up the good work! The tech was excellent!!"
Emily T., Plano TX
"Prompt, polite, quick – WOW!"
Lamar S., Carrollton TX
"The technician was very professional and knew his business. I really was very pleased!"
Anna R., The Colony TX
"I couldn't ask for better service. You're A-OK! Keep up with your good work."
Leatrice P., The Colony TX
"Thanks. You can't beat great service."
Bill R., The Colony TX
"Everyone I talked to from the dispatcher to the tech was very helpful and nice. Everything was perfect."
Paul R., Plano TX
"The price was right--the tech could not have been any nicer or more professional. Service could not have been better."
Stephanie G., Little Elm TX
---
A Note of Thanks:
Your time and effort in completing our satisfaction surveys is very much appreciated. Each and every comment is read* and used to encourage our service team and to improve our services to you. We thank you for participating in this important improvement process.
*The U.S. Postal Service delivery of your completed survey cards is occasionally delayed or in some cases lost. We apologize. If you have a concern that you feel we should have responded to, but haven't, it could be that we have not yet received your comment card or that it was lost. Please call Katherine Everett at 972.591.0293 or email her at colonyair@colonyac.com to discuss any comment or concern you may have.
---
Colony Air Conditioning & Heating is an A+ rated air conditioning and heating company providing fast, certified air conditioner and heater repair service in Frisco TX, Plano TX, McKinney TX, Allen TX, Flower Mound TX, Highland Village TX, Lewisville TX, Coppell TX, Carrollton TX, The Colony TX, Little Elm TX, and North Dallas TX
We accept cash, check, and all major credit cards