Colony Air Conditioning and Heating Recognized as
"Best of Business" by Frisco Style Magazine
FOR IMMEDIATE RELEASE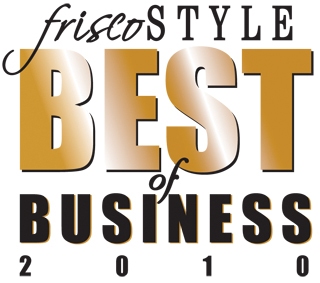 Frisco, TX- October 9, 2010— Colony Air Conditioning and Heating is proud to announce their selection as a 2010 "Best of Business" winner by Frisco STYLE Magazine. This is Colony's first win in the 8th annual search for the top businesses in the Frisco area. Winners of this prestigious award were featured in Frisco STYLE's Best of Business issue in October.
The award is unique in that it is not a popularity contest; readers were not asked to submit votes. Frisco STYLE publisher Chris Johnson explains, "We partnered with Rich Allen of ActionCOACH, a business coaching firm, to rate companies based on information gathered during an interview and application process." Johnson adds, "The decision was based on the company's overall record of accomplishment, success and contribution to our city. In addition, the survey measured the effectiveness and excellence in standard business functional areas such as customer service, sales process, vision and mission." Previous association with ActionCOACH or Frisco STYLE did not factor in to choosing a winner.
"We're honored to accept this award. We appreciate being recognized for our efforts in laying a foundation for continued success in providing heating and air comfort for our customers," says Colony vice president, Katherine Everett. "Our team members are the distinguishing factor that sets us apart from other companies in the area. Customers love our employees and they tell us everyday," states Everett. The company keeps track of its performance by continually surveying their client base, and according to Everett, the hundreds of comment cards they receive monthly repeatedly praise the honesty, professionalism, knowledge and integrity of their workforce.
Colony Air Conditioning and Heating is a family owned HVAC service company that has been providing Frisco area homeowners with a/c and heating service, repair and maintenance since 1977. The company specializes in offering prompt service and high efficiency equipment as well as environmentally-friendly, green products.
In presenting the award, Frisco STYLE and ActionCOACH spotlighted Colony's ability to create a high performance team.
Winners were publicly recognized at the annual Best of Business celebration held at the Stadium Club at Pizza Hut Park in Frisco Texas.