The Infinity™ Air Purifier
For the Ultimate in Air Purification
Molds
captures and kills

Bacteria
captures and kills

Measles Virus
captures and kills

Bird Flu
captures and kills

Flu Viruses
captures and kills

Common Cold
captures and kills

Considering that most people spend 90% of their time indoors and breathe an estimated 2,700 gallons of air every day, having a whole home air filtration system makes good sense. Carrier's Infinity™ Air Purifier is the ultimate air purifier in the industry and is ideal for homeowners with:

allergy concerns

susceptiblity to airborne germs

sensitivity to the effects of molds, pollen, pets and more
Carrier Infinity™ Air Purifier is extremely quiet as it treats the air throughout your entire home; much more quiet than an electronic air cleaner. And, it's much more effective because it cleans over 100 times more air than some of the popular portable units.
Highest "Capture and Kill" Rate in the Industry
The Carrier Infinity™ Air Purifier has patented germicidal technology so effective that it captures and kills airborne pathogens such as bacteria, viruses, mold, even the common cold virus. This technology is the same used to protect secure government facilities and hospital room patients.

Infinity™ Air Purifier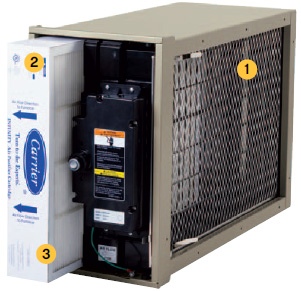 Unique Three-Step Process
Unlike portable air cleaners, the Infinity™ Air Purifier treats 100% of the air flowing through your home's heating and air conditioning system using a unique 3-step process:
Step One: Uses precision point ionization to charge particles as they enter the purifier.
Step Two: Captures airborne particles with a specially designed, continuously charged media.
Step Three: Kills captured viruses, bacteria, mold, other allergens using exclusive, state-of-the-art technology.
Top 6 Benefits of Owning an Infinity Air Purifier:
Very quiet operation.
Treats the whole home, not just one or 2 rooms.
Maintenance is a snap. Nothing to clean, nothing to wash, just change out the patented media cartridge periodically to maintain peak performance. In most cases, the cartridges last 6-12 months, depending on indoor conditions.
Captures and kills. Most air cleaners or purifiers merely filter out contaminants. The Infinity Air Purifier does that and actually kills them.
Protects you and your home during filter changes. Since the Purifier kills living organisms, you and your home stay protected during filter changes. Other cleaners and purifiers do not kill what they capture, so the germs and bacteria, etc. are still alive when you change and handle the dirty filter. As this dirty filter is then carried throughout the house to the garbage bin, live contaminants have the tendency to fall off the filter and land inside your home which is exactly where you don't want them to be.
Rated as the best home air purifier because of it efficiency, its ability to kill, and its ease of maintenance. Competitive products in the market today have a long way to go to reach the performance level of Carrier's Infinity Air Purifier.
For more information or to place an order for the Infinity™ Air Purifier, click here.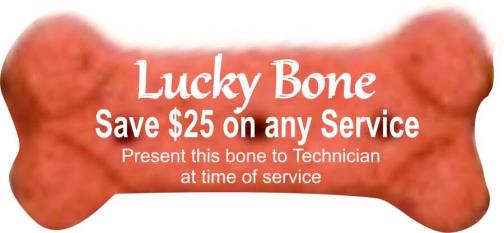 ---
Colony Air Conditioning & Heating is an A+ rated air conditioning and heating company providing fast, certified air conditioner and heater repair service in Frisco TX, Plano TX, McKinney TX, Allen TX, Flower Mound TX, Highland Village TX, Lewisville TX, Coppell TX, Carrollton TX, The Colony TX, Little Elm TX, and North Dallas TX
We accept cash, check, and all major credit cards